Here are my explanations of all of my votes on substantive, non-Consent Agenda items from the September 27, 2021 City Commission meeting. You can watch the meeting at: https://youtu.be/EYv5_EClHuA?t=264
Approve FY 2022 City Budget: YES (Passed 7-0)
This was easily the most important and complicated item on the agenda Monday night. As such, I will be making an entire separate post in the next few days explaining the details of the FY 2022 City budget and the long-term fiscal challenges the City is facing. In short, it's important to note that this budget was created in the midst of a $5.6 million budgetary shortfall which was the result of numerous decisions going back decades, and after a lot of hard work City staff and the City Commission are close to having a solid plan for overcoming these long-term challenges. This budget is far from perfect, but given the circumstances, I'm grateful that we were able to maintain current levels of City services and staff, keep utility rate increases as low as possible (much lower than the steep rate hikes approved in 2018 and 2019), and take an important first step towards setting Marquette on a more sustainable fiscal path.
FY 2021 End-Year Budget Adjustment: YES (Passed 7-0)
This was a common-sense but very important vote to approve a year-end budget adjustment for FY 2021 (the City's fiscal year ends on September 30 and begins on October 1). This budget adjustment incorporated critical cost-saving measures into the FY 2021 City budget, allowing us to finish the year "in the black" and carry that balanced budget forward into the current fiscal year, which will be a tough one. Without this budget adjustment, it would have been impossible to balance the FY 2022 City budget without major cuts to City staff and services. This budget adjustment also granted limited discretion to the Chief Financial Officer to make necessary adjustments to ensure that we ended FY 2021 with a balanced budget, as some City bills come due at the very end of the fiscal year, after the last City Commission meeting.
Support Recycling Grant Applications: YES (Passed 6-1)
This was a vote to approve letters of support for two City grant applications which would provide significant additional funding for City recycling operations. Currently, our private trash and recycling hauler, Waste Management, frequently fails to pick up residents' recyclables when they are left out in small bins and rigid containers, and on glass recycling weeks, the glass recyclables generated by City residents are almost completely unusable by the Marquette County Solid Waste Management Authority due to cross-contamination with other recyclables (plastic, paper, cardboard, metal, etc.). At the same time, for several years the City has been promoting the use of City recycling carts, which are more economical for most residents, and more than 40% of City residents have already switched to the recycling carts. These grants would allow the City of Marquette to provide a free cart for every household in the City that lives in a building with 5 or fewer residential units – those residents currently using the carts would no longer have to pay the small additional fee on their taxes. Because these carts would be provided at zero cost to all City residents who are eligible for curbside recycling collection, the City would ask all City residents to switch to using the carts for their recyclables. I live in a fourplex, and all the tenants in my building use the carts, which are provided by our landlords – they are incredibly convenient, can be stored discretely outside or in a garage or shed, and we never have any problems with our trash and recyclables not being picked up by WM. If we accepted these grants, we would also change our glass recycling system starting next year, shifting to a community glass recyclable drop-off site and discontinuing curbside glass collection due to the ongoing contamination issue. Glass recycling would continue – we would NOT get rid of it under any circumstances. We still need to seriously re-evaluate our contract with WM and continue to put serious pressure on them to improve their curbside collection service, but switching to free recycling carts for all residents and a community glass recyclable drop-off site would solve several major problems all at once at no cost to City taxpayers. I voted Yes because this seems like a common-sense, win-win solution for all City residents – that's probably why Chocolay and Marquette Townships have already made a successful switch to this system using these same grants just this past year.
Waive PUD Minimum Lot Size for Osprey Court Housing Development: YES (Passed 7-0)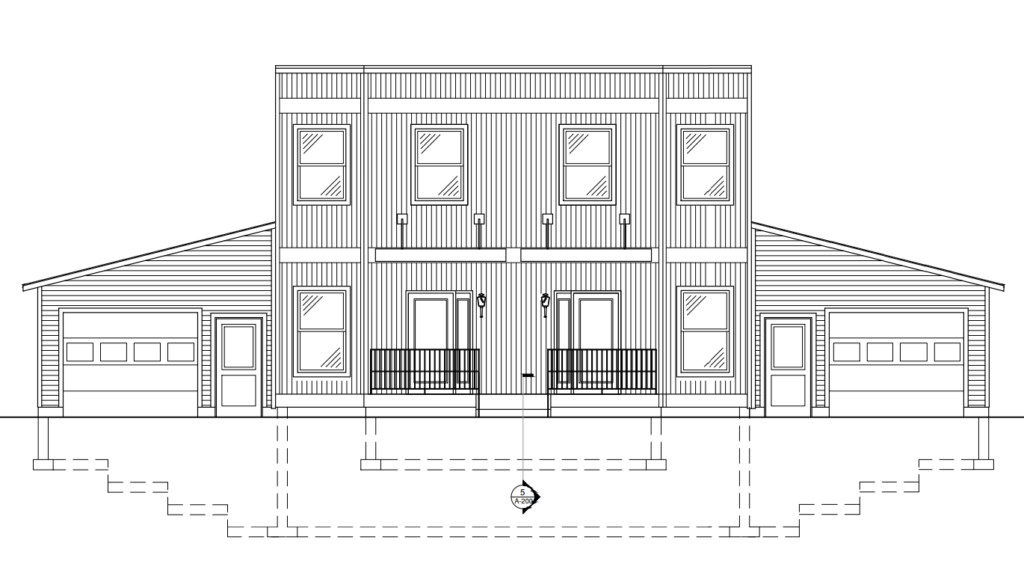 This is an exciting one – the City Commission was asked to waive the normal 2-acre minimum lot size for a Planned Unit Development at 1025 Osprey Court (just off 553/McClellan near Econo Foods), which is a roughly 1-acre lot. This will allow the Marquette County Land Bank and InnovaLab Development Group to build two duplexes which will contain a total of 4 owner-occupied housing units. InnovaLab, based out of Grand Rapids and led by housing expert and former Grand Rapids City Commissioner David Allen, specializes in affordable workforce housing development using modular construction techniques. This property was supposed to be the site of luxury condo development, but went into tax foreclosure in 2009 following the housing market crash. The County Land Bank has been trying to sell and redevelop it ever since, to no avail. However, the County Land Bank recently partnered with InnovaLab and the Michigan State Land Bank to build housing on the site, with the goal to get price points within the upper end of the workforce housing price range (80-120% Area Median Income, or a purchase price of less than $210,000). However, Mr. Allen stated at the meeting that even if they cannot get the price points for these units within the workforce price range, InnovaLab is planning to expand its presence in the U.P. and develop many more workforce housing units at lower price points in the City of Marquette and other communities in Marquette County in the near future. This project is the culmination of over a decade of worthwhile efforts to redevelop this abandoned parcel of land, and will hopefully provide a good case-study for future developments and herald the arrival of a responsible developer of badly needed affordable housing in our community – this is exactly the kind of progress Marquette needs right now in the midst of an unprecedented housing affordability crisis, and that's why I voted Yes.
Approve Lakeshore Blvd. Coastal Restoration Design Contract: YES (Passed 7-0)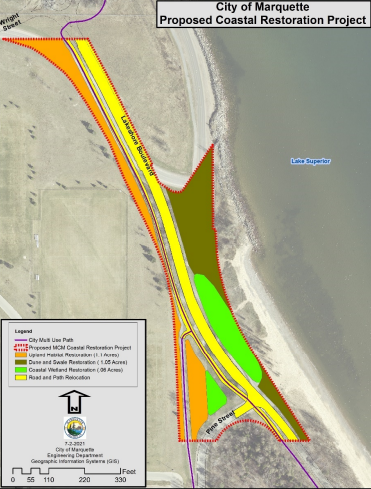 The City of Marquette received a $200,000 EGLE Coastal Management Grant in February 2021 for coastal restoration along the lakeshore near the southern portion of the new Lakeshore Blvd. This was a simple vote to approve a $9,600 contract with RES to design this portion of Phase II of the Lakeshore Blvd. project – the total construction budget for the project is set at $140,000, and when complete, the lakeshore between Pine and Wright Street will be transformed into dunes, swales, and coastal wetlands which will mimic the natural environments found along the south shore of Lake Superior to the greatest possible extent. This area will also be 100% open to the public, and this project will not only beautify the area and restore it to its previous natural state, but will prevent the serious erosion and coastal flooding that this area has experienced in recent years due to rapidly rising lake levels and more severe storms on Lake Superior.
Approve City Manager & City Attorney Performance Evaluations: YES (Passed 7-0)
The City Charter requires an annual performance evaluation of the City Manager and City Attorney, who are the only City officials hired directly by the City Commission. At our Aug. 30 meeting, the Commission authorized Mayor Smith to appoint three Commissioners – herself, Commissioner Hanley, and Commissioner Stonehouse – to an evaluation subcommittee. All Commissioners provided feedback regarding the City Manager and City Attorney's performance so far in their limited tenure in the position, as both were hired within the past year, and established goals for both of them for FY 2022.
The overall evaluation was very positive for both City Manager Karen Kovacs and City Attorney Suzanne Larsen. No increase in compensation was considered for either of them due to current fiscal constraints. I think they're both doing a very good job, and I voted Yes.