Here are my vote explanations for the July 12, 2021 City Commission meeting – apologies in advance for the length of these explanations and the delay in publishing them, this was a very full meeting packed with complex issues, and a very busy week for me in my personal and professional life. You can watch the video recording of the meeting at https://www.youtube.com/watch?v=rnHN9-EAHF0.
Vault Marquette Brownfield Plan: NO (Passed 5-2)
I voted No on the Brownfield Plan for the Vault Marquette/Savings Bank Building development proposed by Braveworks and their architect, Barry Polzin. I am not at all opposed to development on this property, and I agree that the two private parking lots behind the Savings Bank Building are a wasteful use of space in the heart of downtown Marquette. However, I felt that there were too many unanswered questions about this project and not enough time for public input, and I was not convinced that the proposed development was the right fit for the property in question or for Marquette's downtown and waterfront as a whole.
There were several reasons why I voted No. First and foremost, I did not feel that the Vault Marquette proposal was the best realistic potential reuse of this property. To review, Braveworks proposed a luxury boutique hotel with over 100 rooms in the Savings Bank Building and a new 5-story building to the rear connected by a glass atrium, with a 5-story, 36-unit luxury apartment building next door and a 220-space parking structure and green roof/public event space in between the hotel and the apartment building. This was a high-density development in comparison to most of Marquette's downtown and waterfront, and the design seemed to be similar to the controversial Marquette Place development at Founders Landing. 20% of the apartments would also be reserved for renters earning 80-120% of the Area Median Income (AMI), and a private "maker's space" would also have been included in the development. However, this is a highly desirable property in the heart of downtown Marquette with a view of Lake Superior. Had the Commission rejected this proposal on Monday night, it is virtually certain that within a short time another developer would have come forward with another proposal for the property which could have yielded greater public benefits to the people of Marquette. For instance, the exact same development with the same 20% workforce housing commitment, with the sole difference that the 100+ hotel rooms would instead be developed as long-term residential units, could have produced dozens of affordable workforce housing units, rather than just 7 not-actually-affordable units in the Braveworks proposal. The City would have almost certainly had the leverage to request public benefits like this from future developers, as the Braveworks developers and Mac McClelland (the Marquette Brownfield Redevelopment Authority's consultant) both stated that without a Brownfield Plan "there would be no project," and that any future development on this site would likely require a Brownfield Plan. In other communities, market-rate housing developments (even those in prime locations like this one) routinely include a certain percentage of low-income or workforce housing units – the common refrain that, "You will never get any affordable housing on the waterfront," is simply not correct, especially when the City government is actively facilitating the development.
Which brings me to my second reason for voting against this Brownfield Plan – I was not convinced that the workforce housing units promised by Braveworks would actually be affordable for working-class City residents. As mentioned above, at the City Commission work session on June 30, Braveworks committed to setting aside 20% of the apartments in the development for renters earning 80-120% of the Area Median Income – i.e., the "workforce housing" price range which is affordable for lower-middle-income households. However, this would only amount to 7 affordable units out of 36 total units, and Braveworks later revealed at the City Commission meeting on July 12 that the rents for these "attainable" workforce housing units would still be $1,250-$1,350 per month for 500-600 sq. ft. studio and 1-bedroom apartments. This is not truly affordable for a 1- or 2-person household earning 80-120% of the City of Marquette's median income. For comparison, I pay $680/month for a 1-bedroom apartment 2 blocks from downtown in a nice neighborhood in east Marquette, and according to the Ad-Hoc Housing Committee's Final Report, the HUD Fair Market Rent for studio and 1-bedroom apartments in Marquette County is $542 and $624 per month respectively, and the monthly housing budget of a household earning 80-120% of the median household income in the City of Marquette is $880-$1,319. At best, units priced at $1,250-$1,350/month would just barely fall into the top end of the workforce housing price range, but it is also important to note that 1) these monthly housing budgets include rent plus utilities, and 2) the median household size in Marquette County is 2.4 people, whereas only 1-2 people could realistically live in a studio or 1-bedroom apartment, so the "median household" in Marquette probably earns slightly more than the households that would actually be living in these apartments. Finally, this 20% workforce housing commitment is purely verbal at this time, and there is a very recent example – the Gaines Rock Townhomes at Founders Landing – of another developer and the exact same architect telling the City Commission that they would build "attainable" housing priced for "the average household" in Marquette in order to convince the Commission to approve a Brownfield Plan, and then going back on their word and instead selling the housing units in question for $400,000 or more.
I was also concerned about the impacts this development would have on the City's ability to issue bonds to facilitate the redevelopment of other, higher-priority problem properties in Marquette (for example, the old Marquette General Hospital property, the Cliffs-Dow site, or the old Shopko property). The City was being asked to issue about $7.5 million in bonds to finance the construction of the public parking structure that was included in this project. This would bring us $7.5 million closer to our Legal Debt Limit, leaving the City with only about $10 million in remaining bonding capacity for projects that could not be financed through Capital Improvement Bonds (which have a different bonding limit). When you factor in the huge scale and cost of redeveloping the old hospital property (which will require a Brownfield Plan and which needs to happen within the next 2-3 years), as well as the ever-present potential for a devastating (and expensive) natural disaster like the Father's Day Flood which hit the Keweenaw Peninsula in 2018, I did not see how approving this project would not significantly limit the City's ability to issue bonds to support the redevelopment of other, higher-priority properties in the coming years.
This vote explanation is already very lengthy, so I will conclude by listing a few other concerns which heavily factored into my decision to vote No:
The Commission first learned about this project barely 2 months ago, leaving no time for proactive public planning, and inadequate time for public input and meaningful negotiations between the City and the developers. I understand that this was due to the time-sensitive nature of Braveworks' financing for this project, but frankly, that should have been treated as their problem, not the City's.
Concerns about the impacts of this development on both short-term and long-term traffic patterns and congestion in downtown Marquette were not adequately addressed.
The Savings Bank Building is of course very old, but its clock is still functioning and it is not in dire need of structural repairs or exterior maintenance. This project was not necessary to preserve the Savings Bank Building in the long term, and the building has several active tenants.
The aesthetics of the proposed buildings, at least as presented in the architect's conceptual illustrations, were not respectful of the historic character and beauty of downtown Marquette. Rather, they would dramatically change Marquette's downtown skyline, and seemed very similar to the aesthetics of the One Marquette Place building, which most City residents (myself included) do not find aesthetically appealing. Some may say that this is a trivial concern, but I think it is actually very important – after all, when we talk about the best aspects of downtown Marquette, one of the first things we always mention is its historic beauty and aesthetic appeal.
The public feedback about this proposed development that I received from my constituents – in my email inbox, on social media, and at the public hearing on July 12 – was overwhelmingly negative, and given that this will have a huge impact on downtown Marquette, that the City would be issuing over $8 million in public bonds to support this project, and the fact that I was elected to represent the people of Marquette, I felt a responsibility to listen to that feedback.
For these reasons, I voted No on this Brownfield Plan, along with Commissioner Sally Davis.
Deny Rezoning Request for 1651 S Front Street: YES (Passed 4-3)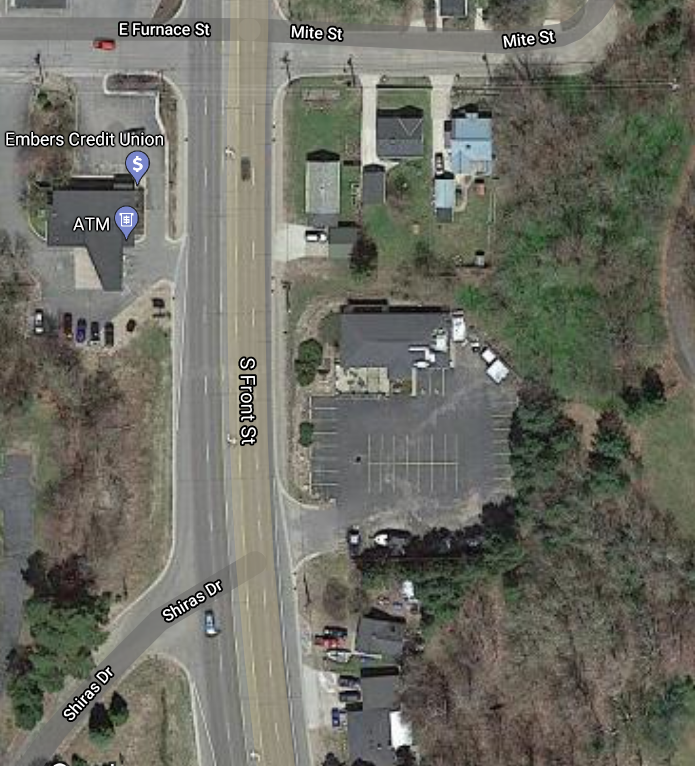 The owner of the vacant Pizza Hut/Union Grill property on 1651 S Front Street in south Marquette had requested that the City Commission rezone his property to General Commercial to allow the property to be sold and redeveloped as a marijuana retail and consumption establishment. As a City Commissioner, I have always strongly supported the growth of the marijuana industry in Marquette, and I sympathize with the property owner, who has been trying to sell the property for several years. Strengthening his argument for rezoning was the fact that this property has been used solely for commercial uses for over 40 years, and prior to the adoption of the City's new Land Development Code in 2015 it was always zoned commercial. However, in 2015 the zoning of the property was changed from commercial to Mixed-Use because it is surrounded largely by residential properties. In 2020, the City Commission voted 5-2 to "conditionally rezone" the property as General Commercial, with the conditions that the property could not be used for certain commercial purposes, including "Excess" (i.e., very large) marijuana growing facilities and marijuana consumption establishments – I gladly voted Yes on this conditional rezoning.
However, most of my fellow Commissioners and I felt that rezoning this property to General Commercial with no conditions would permanently allow a wide range of future uses – hotels, motels, gas stations, etc. – which would not be appropriate at this site due to its proximity to a residential neighborhood and a hazardous curve on a busy highway. Instead, several of my colleagues and I encouraged the property owner and the prospective developers, who were present at the meeting, to instead apply for conditional rezoning to specifically allow marijuana consumption establishments. I am not opposed to a marijuana consumption establishment on this property, but I felt that rezoning the property to General Commercial with no restrictions would have been irresponsible and potentially dangerous in the long term, and as a result I voted to deny this rezoning request. I hope the property owner comes back with a conditional rezoning request in the near future.
Allow PUD Amdt. for 6-Foot Fence at 1301 Picnic Rocks Drive: YES (Failed 4-3)
This was a vote on a requested Planned Unit Development (PUD) Amendment for the Picnic Rocks PUD along Lakeshore Boulevard. The homeowner at 1301 Picnic Rocks Drive had been given incorrect information by a contractor and the president of her HOA, and the HOA had erroneously granted her permission to build a 6-foot fence on her property. In reality, her condo association is governed by the City Land Development Code, which only allows fences to be up to 4 feet tall in residential zones, and she never obtained a City permit to build her fence as required by the Land Development Code. Ignorant of this, she subsequently built an unpermitted 6-foot fence because her dog could jump over a 4-foot fence. However, it was clear to me that the applicant had not been acting with any malicious intent and had been genuinely misled by her contractor and the leaders of her HOA. She had already paid $1,900 in fees to the City to request a PUD Amendment to allow the fence to remain, and many of her neighbors and other members of the public had expressed support for her application. I was also not convinced that granting this PUD Amendment request would have set a precedent of any kind, for 3 reasons:
The PUD Amendment clearly stated that the 6-foot fence would only be allowed on the applicant's property, and that the 4-foot height limit in the Land Development Code would continue to apply to the 14 other properties in her HOA.
When asked at the June 1 Planning Commission meeting whether granting this PUD Amendment would set a dangerous precedent for fence-related variances in the City as a whole, the City Zoning Administrator clearly stated, "No, (because) we review everything on a case-by-case basis … it is the same for variances (outside of a PUD)."
This would also not have set a precedent within this specific PUD, as the circumstances surrounding this PUD Amendment request were very unique, each PUD amendment is considered on a case-by-case basis, and similar PUD amendments had been granted in the past – for example, the City Zoning Administrator described a recent PUD amendment where "they just asked for a setback to go … from 10 feet to 9 feet or something like that, and that was reviewed and approved."
After visiting the property myself and listening to the comments at the public hearing, it was also clear to me that the fence does not actually block anyone's view or negatively impact driver or pedestrian safety, so the argument that this would negatively impact other properties seemed to be quite weak. For all of these reasons, I voted along with Commissioners Jess Hanley and Cody Mayer to grant the PUD Amendment and allow the fence to remain on this property, although the majority of the Commission voted against the PUD Amendment.
Street Performers Ordinance: YES (Passed 7-0)
This was a vote to approve an ordinance to allow street performers in public spaces, including on local streets, sidewalks, and paths and on public properties. The ordinance establishes regulations on the permissible location and hours for street performances, limits monetary transactions, provides for keeping pedestrian walkways clear and free of litter, prohibits dangerous activities and the use of amplifying equipment by street performers, and requires that street performers be a certain distance from businesses, playgrounds, and schools. This ordinance was crafted in close consultation with the City of Marquette's Arts & Culture Advisory Committee. I felt that this was a common-sense policy, and voted Yes.
Presque Isle Open Burning Ordinance: YES (Passed 7-0)
This ordinance amends the City's current Open Burning Ordinance to reduce the risk of wildfires on Presque Isle, which is significant due to the natural condition of Presque Isle Park and the high visitor volumes and dry summers we have seen in recent years. This ordinance explicitly states that patio wood-burning units can only be used on private property, and that the only fires permitted in Presque Isle Park are those in City-owned grilling appliances provided for cooking purposes – in other words, visitors will no longer be allowed to bring their own grills or wood-burning units to Presque Isle, and campfires will continue to be strictly prohibited. This ordinance was developed and approved with the full support of the Presque Isle Park Advisory Committee. I was glad to see this ordinance finally make it to the City Commission for approval after years of discussions and development, and I voted Yes.
Resolution in Support of MBLP Public Broadband: YES (Passed 7-0)
This was a resolution in support of the Marquette Board of Light & Power (MBLP) developing a publicly-owned and operated broadband network in the City of Marquette and offering high-speed broadband internet service as a public utility like electricity. The BLP is currently conducting a feasibility study, and peer communities in Michigan and throughout the country, including Holland and Traverse City, have already established successful, financially sustainable public broadband utilities that provide faster internet (with upload and download speeds on the order of 1 Gbps, which is currently unavailable anywhere in Marquette County) at lower prices than the private sector. This would be a huge step forward for economic development, education, and quality of life in Marquette, and I hope this happens in the next couple of years.
On a related note, I also hope that in the coming years the City of Marquette (perhaps in partnership with the DDA and the BLP) can provide free, high-speed public Wi-Fi in downtown Marquette. The Village of L'Anse and the Cities of Holland and Traverse City already do this. If L'Anse can do it, why can't we?