Hi folks – here are my vote explanations from the November 29, 2021 Marquette City Commission meeting. You can watch the meeting video at https://youtu.be/-UDB2SIFZn8 and please don't hesitate to reach out to share any of your questions or concerns with me at (906) 236-0247 or [email protected].
Approve Intent to Sell Resolution for Mixed-Income Affordable Housing Development on McClellan Ave: No Action Taken
Withdraw McClellan Ave. Development from Consideration, & Seek Affordable Housing Development at Other Sites in the City of Marquette: YES (Passed 7-0)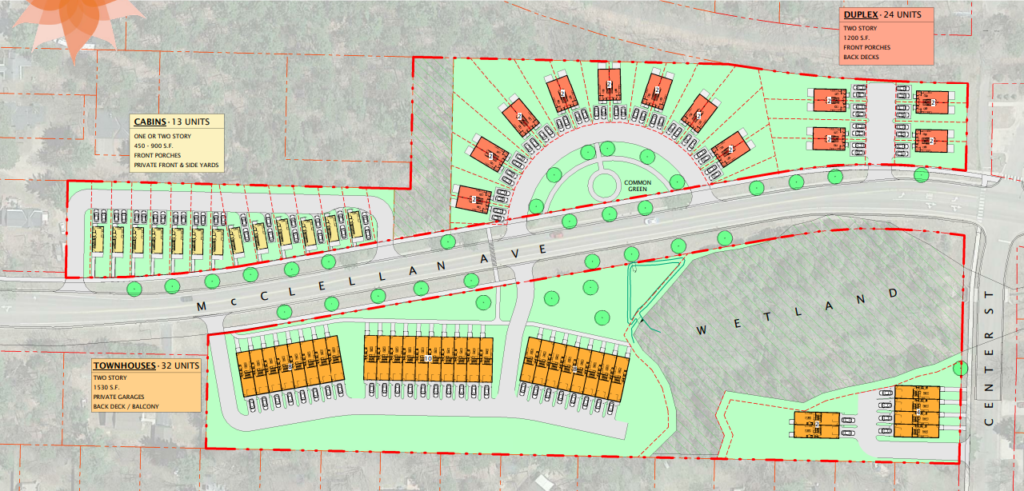 My apologies in advance for this lengthy vote explanation. This was one of the most difficult votes I have taken in my 2 years on the City Commission, as I felt that I was being pulled in two conflicting directions and forced to choose between "the lesser of two evils." In February 2021, Renovare Development independently approached the City of Marquette with an offer to buy 8.1 acres of City-owned property on N McClellan Avenue, between West Avenue and Elder Drive, to develop it into affordable, mixed-income housing. This proposal was still being fleshed out at the time, and was not brought forward for City Commission consideration until the Ad Hoc Housing Committee had released our Final Report (in June 2021) and the City Commission had formally endorsed the Housing Committee's Final Report and policy recommendations (which did not occur until last week at our special meeting on Nov. 22). The City Commission did not have any more details about this proposal than the general public did until a few days before Monday's meeting.
Contrary to some baseless and completely false rumors and conspiracy theories being tossed around on social media and during public comment at last night's meeting, there was never any "behind-closed-doors" deal between Renovare and the City, no preexisting relationship between Renovare and the City Manager or any City Commissioners, no intent to "pull one over" on the public or "ram this through" without public input, and zero recommendations in the Ad Hoc Housing Committee's Final Report regarding this specific development proposal. Renovare was just one of dozens of housing experts who gave a brief presentation to the Ad Hoc Housing Committee more than a year ago, and their presence in Marquette predates the Housing Committee and this development proposal by at least 6 years, as they were a key player in the redevelopment of the old orphanage into the Grandview Marquette low-income housing complex.
In any case, the development proposal that we were presented with last night would have included 69 total owner-occupied housing units, including a mix of small single-family homes, duplexes, fourplexes, and rowhouses. At least 50% (35) of these units would have been affordable for households earning 60-120% of Marquette's Area Median Income (AMI), with Brownfield Tax Increment Financing (TIF) used to provide gap financing to get prices down to affordable levels, and deed restrictions imposing long-term affordability and potentially principal residence requirements for the affordable units. The proposed Brownfield Plan would have been paid off within 8-12 years, and would have been used to obtain affordable price points, not merely line the developer's pockets.
On the surface, this seems like exactly the kind of affordable housing development that our community so desperately needs – and in virtually any other location in Marquette, it would have been. Truly, I wish we could "copy and paste" this development into 4 or 5 different vacant or undeveloped properties that exist throughout Marquette. However, the crucial complication with this development was that it would have resulted in the destruction of 8 acres of pristine woodlands that have long been a de facto park for local residents – this understandably generated intense public opposition, with over 100 people attending the City Commission meeting to express their concerns, many of which were completely valid. In hindsight, the City was also not as transparent as we should have been, and the proposed public engagement process between the developer and the community should have taken place before any proposal was brought before the Commission, not after. Finally, the deciding factor for me was that we learned at the meeting that 10-12 years ago, when the City Commission voted to extend McClellan Avenue through this property from Fair Avenue to Wright Street, then-Mayor John Kivela and most of the other City Commissioners promised the residents of the surrounding neighborhoods that the remaining woodlands and wetlands on either side of the road would remain undeveloped and would continue to be zoned for Conservation/Recreation. At some point, the zoning of the property changed to Municipal because it was City-owned, but I still felt that the Commission needed to honor those promises that were made to the neighborhood residents in the fairly recent past. To do otherwise would have severely undermined public trust in the Commission and the City as a whole. That is why, after careful consideration, I voted for Commissioner Stonehouse's motion to withdraw this proposed development from consideration for this particular site, and to continue City efforts to work with developers and build public-private partnerships to develop affordable housing on other vacant, blighted, or undeveloped sites within the City of Marquette.
That being said, while I stand by this vote as the best decision available to the Commission last night, I am far from happy about it. In fact, I am deeply frustrated, and I remain determined to continue working with my fellow Commissioners, City staff, and community partners to promote affordable housing development in Marquette – not 5 or 10 years from now, not even 2 years from now, but right NOW. There is a very real and very urgent housing affordability crisis that is threatening the livability and the future social and economic wellbeing of this community. This Commission has had many City residents share their stories about struggling to find decent, affordable housing with us, including at our meeting just last week. We have also been presented with a mountain of overwhelming data that further proves that we are experiencing a housing crisis. In the coming months and years, the City Commission needs to implement the recommendations of the Ad Hoc Housing Committee and actively pursue other near-term opportunities for affordable housing development, and I will do everything in my power as a City Commissioner to make that happen.
To be completely honest, this issue is very personal for me. I grew up in a little blue house on Woodland Avenue (which is now worth about 3x what my parents paid for it 30 years ago), and when I was a kid I played in these woods and the many other little pockets of nature scattered throughout the neighborhood – on this property between West Avenue and McClellan, in the woods between Woodland and the Redeemer church parking lot, and I frequently gave my parents a heart attack sledding down the ravine west of Woodland. There were a lot of other working-class families with kids in the neighborhood, and you always got a lot of good candy on Halloween.
I say all that because I wish my family could've stayed there. When we fell on hard times like a lot of families did during the Recession, and my parents got divorced, we wanted to stay in our home, but we couldn't afford to. So over the next 6 years, we moved 4 or 5 times to try and find housing that we could afford anywhere in Marquette, and it was often a struggle. If something like this proposed development had existed at that time, maybe we could've stayed in that neighborhood that we loved so much.
Then, after I graduated from college and got a job in Marquette in 2019, it took me 6 months and a lot of luck to find an affordable one-bedroom apartment in Marquette. Ironically, although I'm an elected City Commissioner, I worry every day that someday soon my wife and I will get priced out of our hometown that we both grew up in and want to stay in. Right now, Marquette's biggest export is our young people, followed closely by families with children and retirees on limited incomes, and the lack of affordable housing is largely to blame for that. Everyone says we don't want to become Traverse City – well, working-class people of all ages are the bedrock of our community, they are the key to our community's future, and if we don't get some significant affordable housing development in Marquette very soon, we will lose those people and we won't get them back, and Marquette will become a hollowed-out shell of what it once was, a community for tourists and the wealthy. If you don't believe that, just go ask the folks in Traverse City.
Where are our children and grandchildren going to live in Marquette? Or our retired parents and grandparents on fixed incomes? Or the thousands of low- and middle-income employees who work at local businesses and provide vital services to our community? What about the NMU students and employees who also form part of the bedrock of Marquette? And while we need to think about homeowners, every single City Commissioner was also elected to represent the majority of City residents who (like myself and most of my family members in Marquette) are renters and still pay taxes indirectly through their rent. What about the need for affordable rental housing for them, which was not part of the proposed development on McClellan?
There will be no easy answers to these questions, but 3 things are clear:
1) There is an affordable housing crisis in Marquette that requires urgent action by the City;
2) Thanks to the Ad Hoc Housing Committee, we now know of many specific actions that we can take to address that crisis; and
3) None of those actions will be universally popular, and all of them will require compromise and realism from both City residents and their elected officials.
To those who are disappointed by this vote, I completely understand and I am truly sorry, but please know that this is certainly not the end of City efforts to promote housing affordability – rather, it is just the end of the beginning.
Brownfield Reimbursement Agreement for Vault Marquette Project: NO (Passed 6-1)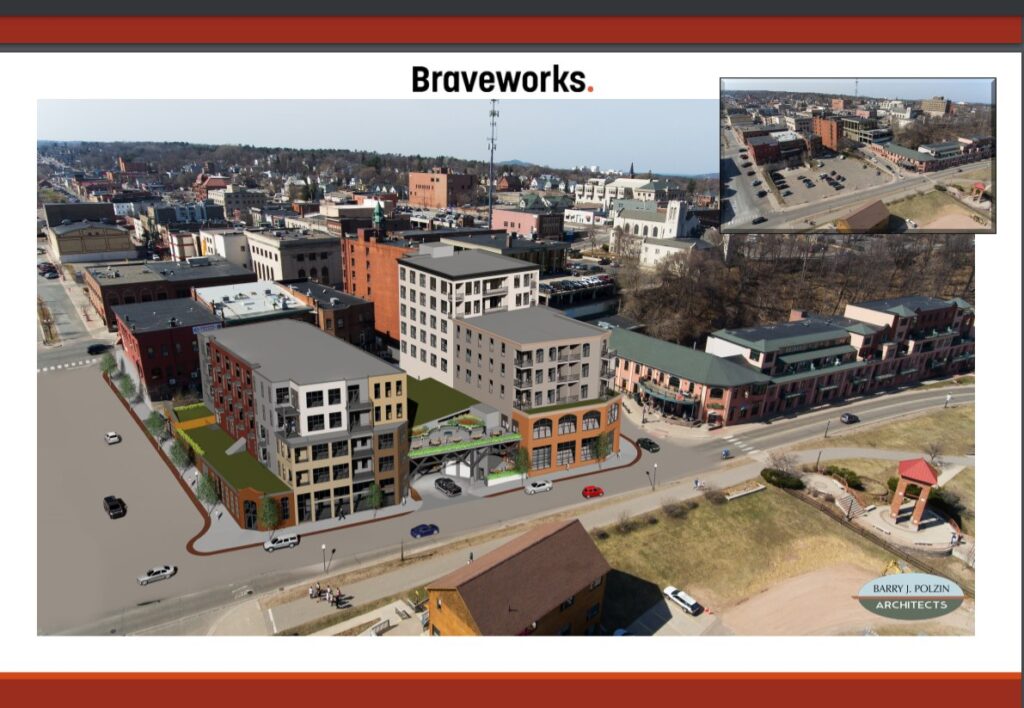 This was a vote on a Reimbursement Agreement essentially laying out some additional details regarding the Brownfield TIF reimbursement schedule for the Vault Marquette luxury hotel, residential, and parking garage development on Lakeshore Boulevard. You may recall that the Brownfield Plan for this development was considered at a previous City Commission meeting in July 2021, and passed 5-2 – there was strong public opposition to the project, and I was one of the two Commissioners who voted No at that time. As a result, although this Reimbursement Agreement was arguably a procedural step in the process of allowing the Vault Marquette project to move forward, it was part and parcel with the Brownfield Plan that I voted against just a few months ago, and as a result I did not feel that I could support it in good conscience. That is why I was the sole No vote on this item last night. The City Commission will be presented with a Development Agreement and an Operational Agreement for this project (the final steps in the approval process) sometime in January or February 2022, and I am curious to see what is included in those final agreements.
Approve Police Labor Agreement: YES (Passed 7-0)
This was a vote for a new contract with the union representing the Marquette Police Dept. This contract was very similar to other contracts that the Commission has recently approved for other City bargaining units: 2 years in length, with a 2% raise in Year 1 and a wage reopener in Year 2, and some minor compensation and personnel adjustments. The modest increase in personnel expenses ($58,800) resulting from this contract is within the City's current fiscal constraints and has already been incorporated into the FY22 City budget. I grew up in a law enforcement family, and my mother worked as a secretary for MPD for 30+ years and also served as a union vice president, so I have seen firsthand the invaluable contributions and sacrifices that our MPD personnel and their families make to keep this community safe. Frankly, our MPD officers and support staff are worth a lot more, but given the tight City budget this year, I thought this was a fair contract and a common-sense Yes vote.