February 14, 2022 Vote Explanations
First, it's worth mentioning that this meeting was preceded by a special City Commission meeting on the potential redevelopment of the old hospital property in central Marquette – no votes were taken at that special meeting, it was merely a public informational session and discussion by the City Commission. I will make another post soon with a much more detailed discussion of the future of the old hospital property, but in short, the City is working with the NMU Foundation to craft a Request for Qualifications (RFQ) soliciting a master developer for the property and a City Commission resolution in support of the NMU Foundation's efforts to facilitate the redevelopment of this 23-acre vacant site. This will almost certainly require a sizeable Brownfield Plan from the City, which would be paid off over a period of about 15 years. However, I am optimistic and excited about this proposed project. While many more details still need to be worked out and we need a lot more public input before voting on a Brownfield Plan, at this early stage it seems that the redevelopment of the old hospital would not only grow the City tax base and revitalize a large abandoned property which will otherwise become a blighted eyesore in the heart of Marquette, it would also meet urgent community needs for more affordable housing, lead to the creation of new public spaces, grow the local economy, and provide more than $4 million for much-needed City infrastructure repairs in that neighborhood (much more than the total of $2.5 million in cumulative tax revenue that the City would lose over the 15-year lifetime of the Brownfield Plan). More details and opportunities for public input will be coming soon, and please reach out to me at (906) 236-0247 or [email protected] if you have any questions or concerns in the meantime.
Support Marquette County Collaborative for Recovery & Homelessness: YES (Passed 7-0)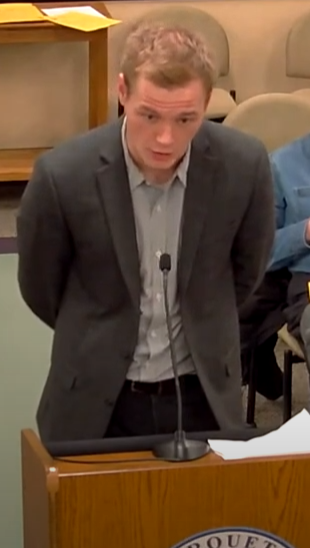 This was a vote on a letter of support from the City Commission for the Marquette County Collaborative for Recovery and Homelessness. The Collaborative is a newly formed coalition of the Great Lakes Recovery Centers (GLRC), Room at the Inn (RATI), and the Janzen House. They are applying for a major state grant to complete three large projects that would meet urgent community needs: 1) Consolidate and expand GLRC recovery and rehabilitation services at a single county-wide facility, 2) Relocate the RATI homeless shelter to a larger facility to meet the growing needs of people experiencing homelessness in Marquette, and 3) Renovate the Janzen House (a 120 year-old building in need of repairs) and expand its capacity by 3-5 beds. Homelessness and substance use are serious and growing problems in Marquette, the U.P., and the rest of the United States, and while none of these projects will solve these problems entirely or meet the needs of every single person struggling with homelessness or addiction in Marquette, receiving this state funding would truly be a game changer for the most vulnerable members of our community. Moreover, none of these projects would cost the City a dime. I wholeheartedly support the Collaborative's efforts, and I happily voted Yes along with my colleagues.
Ore Dock Brewing Co. Brownfield Plan: YES (Passed 7-0)
Amendment to Remove 5-Year Revolving Fund Tax Capture: YES (Passed 6-1)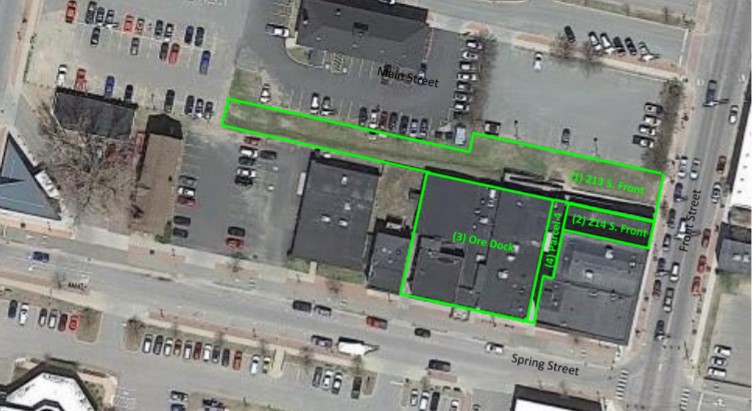 This was a vote on a small Brownfield Plan to help revitalize two blighted properties in downtown Marquette and facilitate the expansion of a local small business, the Ore Dock Brewing Company. The owners of the Ore Dock purchased a blighted building next door to their place of business last year, and bought a small adjacent property from the City in August 2021. The vacant building has been an eyesore in the heart of our downtown for many years, and in addition to being unable to be developed or reused for conceivably any other purpose, the former City-owned parcel (the former site of a railroad track) is heavily contaminated with mercury and lead. The owners of the Ore Dock want to demolish the blighted building, clean up the contamination on the property, and use the land to develop a beer garden and expand their current building footprint and brewing capacity. Their total private investment will be $1.5 million, and they will continue paying their current level of taxes on the property. Of this $1.5 million investment, this Brownfield Plan will allow the Ore Dock to be reimbursed for up to $871,000 in "eligible activities" that they would otherwise be unable to complete profitably – these include demolition of the blighted building, environmental assessment and clean-up, lead and asbestos abatement, and infrastructure improvements. The amount to be reimbursed (and the length of the Brownfield Plan) could be reduced considerably if the Ore Dock receives one or more grants that they have applied for to assist with this project. An extension of the City bike path will also be funded through the Brownfield Plan, connecting the Iron Ore Heritage Trail (which currently ends at Marquette Commons) with the Rosewood Walkway and the Lake Superior waterfront.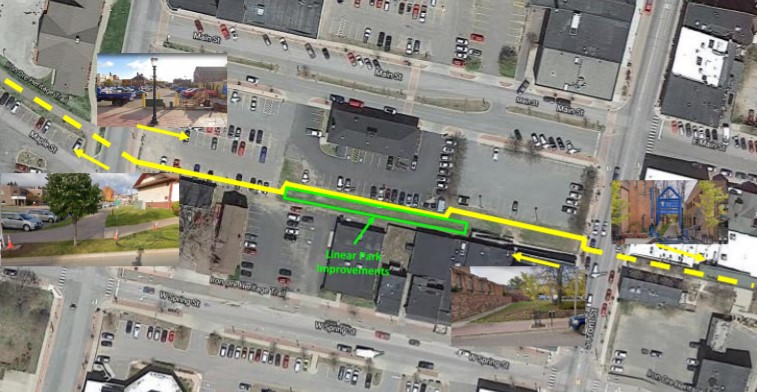 The funds for this reimbursement will come from the marginal increase in property taxes paid on this property. This Brownfield Plan will have zero budgetary impact on the City (all new property tax revenue in the downtown district is captured by the DDA anyway) and has also been approved by the State of Michigan, the Downtown Development Authority (DDA), and the Local Development Finance Authority (LDFA). Before voting, the City Commission approved an amendment that cut out 5 years of tax capture for the Local Brownfield Revolving Fund, thereby shortening the length of the Brownfield Plan from 26 years to 21 years and reducing the total tax capture to less than $1 million – I voted Yes, and only Commissioner Hill voted No. The City Commission then unanimously approved the Brownfield Plan as amended, and despite some initial concerns, in the end I happily voted Yes. I am confident that this will prove to be a positive, impactful, and fiscally responsible move for the City of Marquette and our beautiful downtown district.
Rezone City Property on N McClellan Ave. to Conservation/Recreation: YES (Passed 7-0)
In response to a desire (and two signed petitions) from neighboring residents that the City follow through on promises made by a previous City Commission to preserve the City-owned properties on North McClellan Avenue for conservation and public recreation, the City Commission considered a motion to begin the process of rezoning this property from its current zoning status of "Municipal" to "Conservation/Recreation." This is the same zoning designation that applies to City parks and several other green spaces in the City limits, and the property is currently a mix of wetlands and woodlands which contains several unofficial trails and is used by residents for recreational purposes, as well as being home to several large, old trees and a wide range of wildlife. Some residents had expressed a desire for a permanent conservation easement on this property, but while that is a possibility in the future, it would take considerable time and require careful planning and consideration – the creation of a conservation and recreation easement for 578 acres of the Heartwood Forest, for example, followed the rezoning of that property for Conservation/Recreation and years of discussions and planning. This rezoning in no way prevents a future conservation/recreation easement, and it is a simple step that is in line with our current Master Plan and which we can take right now to protect this land for future generations of City residents.
Create DDA Citizens Council: YES (Passed 7-0)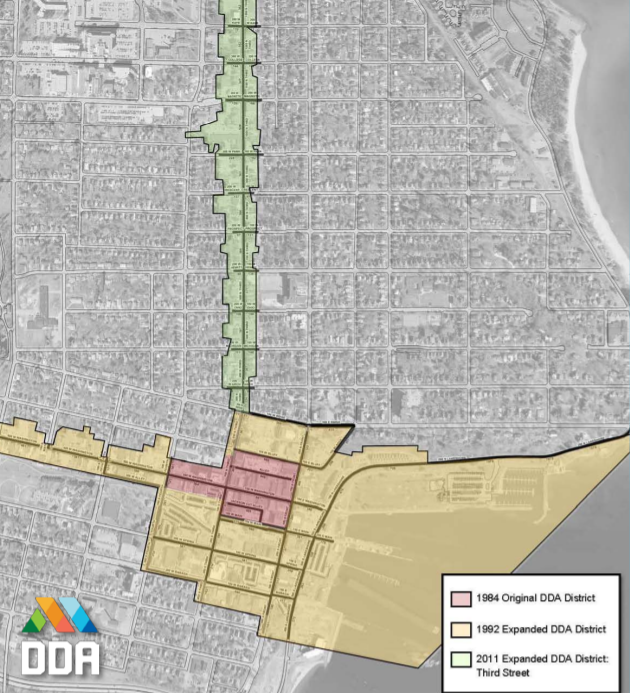 This was a vote to create a Downtown Development Area Citizens Council to discuss and plan for the potential creation of a new DDA Tax Increment Financing (TIF) district for the Third Street Corridor. Although Third Street is officially part of the DDA district, when the DDA expanded there in 2011, it did not extend its existing downtown TIF district to cover Third Street. The DDA, which relies mostly on local TIF revenue to support its budget, currently provides many services to Third Street. However, this essentially amounts to a subsidization of the Third Street Corridor by businesses in the rest of downtown which already pay taxes to support the DDA – all marginal increases in local property tax revenue in the existing DDA TIF district have gone to the DDA since 1992, with City general fund tax revenue from this downtown district essentially frozen at 1992 levels. This is not true of the Third Street Corridor, which pays property taxes to the City general fund at the same rate as any other part of town, and does not pay to support the DDA. This is obviously a problem for the DDA, which needs to complete several major capital projects and continue to provide numerous services to downtown Marquette in the coming years. However, the creation of a DDA TIF district on Third Street, while having little fiscal impact at first, could potentially deprive the City of hundreds of thousands of dollars in annual tax revenue within a decade by essentially freezing the amount of local property tax revenue from Third Street going to the City general fund – any marginal increase in tax revenue would instead go to the DDA. That being said, the DDA Citizens Council will merely be a group of residents of the downtown district who will be tasked with studying the idea of a Third Street DDA TIF district and planning for how such an idea would work. Because this doesn't commit the City to anything and public input is always valuable, I voted Yes to create this Citizens Council. However, I am very reluctant to limit future City tax revenue at a time when our Third Street Corridor is growing and the City is facing a major budget deficit – moving forward, I will eagerly await more detailed proposals from the DDA and the Citizens Council, and make the best financial decision for the City as a whole.
January 31, 2022 Vote Explanations
Approve Fire Truck Maintenance Agreement with Powell Twp: YES (Passed 7-0)
This was a common-sense Yes vote to approve an agreement with Powell Township to use City personnel and equipment to help maintain their fire response vehicles. This actually makes the City money, and because our DPW has specialized equipment and skills that many small local governments lack, we already have virtually identical agreements in place with Marquette and Chocolay Townships.
Purchase New Municipal Tractor: YES (Passed 7-0)
This was a vote to purchase a new specialized tractor for the City DPW. Some other City Commissioners and I were initially skeptical of this purchase due to its high price tag of $170,000, given that the City has already implemented significant cuts in the current FY 2022 budget and is still looking at a nearly $2 million structural deficit for FY 2023. However, City staff explained that this was the lowest bid that the City had received which met our specifications (which included various technical capabilities and the ability to operate in all weather conditions), and that it made sense to purchase this particular tractor for two additional reasons: 1) The old tractor that it would be replacing was no longer being serviced by its manufacturer, and it had become impossible to find replacement parts for this older model, and 2) the City already owned an identical tractor (the DPW maintains two municipal tractors in its motor pool), making maintenance much easier and more cost-effective because both tractors would now have interchangeable parts. It still pained me to spend this much on a tractor, but upon further review I learned that it had come in $30,000 under budget, and I found the arguments of our DPW staff to be convincing enough that I was willing to vote Yes.
Schedule Public Hearing for Ore Dock Brewing Co. Brownfield Plan: YES (Passed 7-0)
This was simply a routine vote to schedule a public hearing for the February 14, 2022 City Commission meeting on the Brownfield Plan discussed above.